Meet Wendolin Zenteno From Voyagela.com
Thank you to Voyagela.com for reaching out to me for this wonderful interview.
I hope you enjoy it. 
Meet Wendolin Zenteno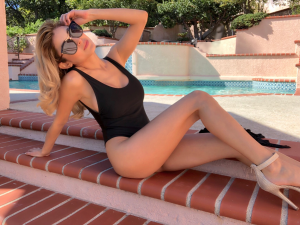 Today we'd like to introduce you to Wendolin Zenteno.
Wendolin, before we jump into specific questions about your business, why don't you give us some details about you and your story.
I have been interested in clothing design and fashion since I was ten years old. I started from the time I sat in front of a sewing machine at that age. I was young and did not know yet what I was doing. But I was very interested in learning everything I could.
I practiced for hours and hours and would hand stitch my own clothes. Then, when I graduated from high school, I decided to study clothing construction, design, and pattern making, completing the program in my hometown of Tamaulipas, Mexico. I also took a job making wedding dresses where I refined by design skills further.
Overall, has it been relatively smooth? If not, what were some of the struggles along the way?
After graduating from high school, I decided I wanted to continue my education as a fashion designer in Los Angeles. I enrolled in an Au-pair program to take care of children for families in the U.S. and learn English. So, I move to Manhattan Beach, California, with a great family who I fell in love instantly. Moving to a new country and learning a new language was not easy but was very worth it. I was able to attend Santa Monica College to study and continue my education as a fashion designer. I worked on several runway fashion events and designed dresses and accessories during and after my time at Santa Monica College.
I have always liked to express freedom with my own unique and individual style. My conservative upbringing limited my freedom of expression as a child. Today, I feel that I have a great responsibility to encourage women to love and express themselves freely and not allow anyone to body shame them. Growing up in a conservative town I was body-shamed, and I have been physically hurt because of my desire to own my freedom to wear trendy clothing. Today, a lot of my social media posts are about a positive message. I want everyone to know that they are beautiful in their own unique way and I encouraging people to be happy with who they are and that we should have the right to express our freedom through clothing freely no matter of your gender, age, race, background, or religion.
Alright – so let's talk business. What else should we know about your work?
In 2018, I started Wendolin Designs to create unique, fun, and comfortable women's swimwear. Our swimwear is created to celebrate freedom with fun and trendy designs, sparkling vibrant fabrics, and vivid hues. All of our products are proudly handmade and designed in Los Angeles, California. We also source our materials from the fashion district located in downtown Los Angeles. I have created two major women's swimwear collections, one for beach-to-party wear, with a significant influence from Southern California music festivals, pool parties, and the beach. And the second line of women's swimwear and accessories created for tropical vacations and resort wear.
The Party Wear Collection is designed as transitional wear from the beach or pool, to a music festival. With modern and trendy patterns, it is a step up from traditional dancewear since is made of spandex and stretchable materials along with full lining protection. Our Tropical Beach Collection is created with higher quality, double stitching, trendy prints, and designs to wear on a tropical vacation or at a resort trip.
My journey of starting a business and launching a swimwear line has not been easy and takes hours of hard work. My passion for creating something unique and fun gives me a new test to think beyond the norm every day. Los Angeles and the swimwear industry is a very competitive environment with lots of great designers. There are hard challenges every day, but my motivation to keep on going is to make my customers happy and comfortable in their own skin. I keep them in mind as I create new designs and swimwear products.